Amy Manson
The Clay and Metal Loft, 27 Fairfax Street SE, Leesburg, Virginia 20175 (Directions)
SHOP BY APPOINTMENT
Potter Amy Manson will be joining Jill again this year at Garden Corner Studios, 38615 Morrisonville Road, Lovettsville, VA 20180.
Sunday, November 15th, 11am to 5pm
Sunday, November 22nd, 11am to 5pm
Saturday, November 28th (Small Business Saturday), 11am to 5pm
HOLIDAY SALE AT CLAY & METAL
Enjoy Amy's work and that of CHAT Artists Kaarin Nelson, Teresa Jardines, Bryan Mattraw, Karen Helble, and Jill Evans-Kavaldjian during a Holiday Sale at The Clay and Metal Loft, 27 Fairfax Street SE, Leesburg, VA 20175.
Friday, December 4th, 11am to 5pm
Saturday, December 5th, 11am to 5pm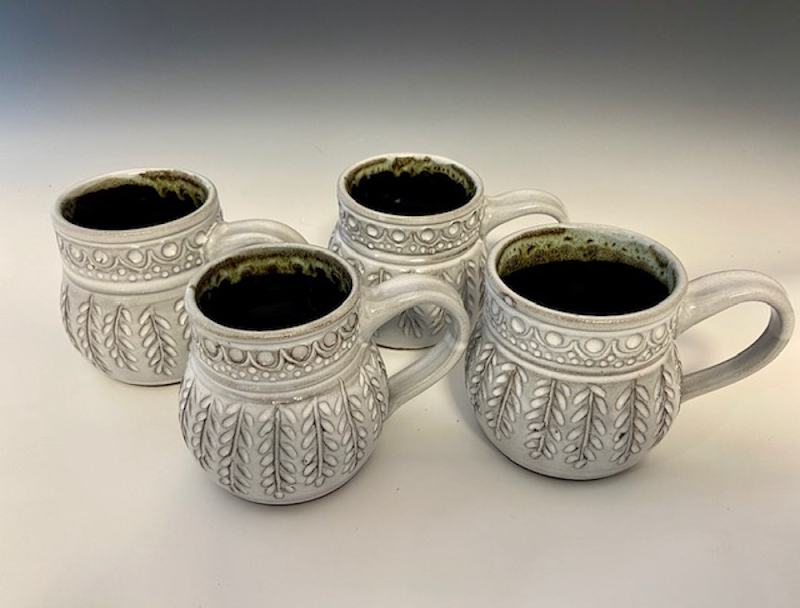 White Mugs, ceramic
Amy's passion is working with clay — a soft malleable substance — throwing, forming, and urging it into an object of both beauty and function. An object, which can be admired, touched, held, and used in daily life. This process and transformation of the soft clay into a hard and beautiful object meant to be seen, used, passed along, maybe even eventually broken and given back to the earth seems to mirror personal growth and transformation.
Amy says, "I have been a full time studio potter for 16 years and display and sell my work in various galleries in South Carolina, North Carolina, and Virginia. I teach and create my work (and recipes) at my brick and mortar studio and gallery, The Clay and Metal Loft. It gives me great insight and joy to create a one of a kind piece of artwork. I hope others enjoy viewing and utilizing the pottery as much as I enjoyed making it!"